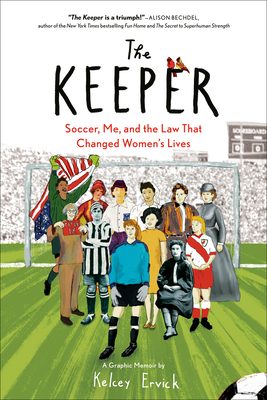 I was a competitive swimmer for 15 years, from the age of 7 all the way through college. I swam in summer leagues, on school teams, and on competitive year-round teams. Swimming was a huge part of my life. Some of my best friends were my fellow swimmers. Even my husband was a fellow swimmer. As a girl born in the 70s, I never really questioned the fact that I was able to join a team. Title IX was always an unquestioned part of my life. In her graphic memoir, former soccer player Kelcey Ervick, who is exactly my age, did consider the fact that she was a part of the first generation of girls who lived their whole sporting careers with the protections of Title IX. She weaves the history of women's soccer (football), the fight for recognition of women's sports, and her own impressive journey on the soccer pitch together to form an informative and interesting graphic memoir.

Opening with Ervick watching the video made by a teammate's dad in 1987 when her travel team went to the US Girls' Nationals Tournament, the video becomes a jumping off point for her musings about the way that girl's sports were perceived at the time (and to be fair, oftentimes today as well—just look at the disparities between the US Women's National Soccer Team and the US Men's National Soccer Team). She talks about her own personal experience as a keeper, the toll it took on her body, the friends she made and lost, the exhilaration of playing (and winning), the burnout, her eventual comeback in the sport she loves, and what made her a writer. The entire memoir is hand lettered and the artwork is mostly simple line drawing comics with an occasional collage thrown in. It's a very fast read, full of interesting and important information about women in soccer, and by extrapolation, women in sports. Give it to your soccer playing daughters (but not until you've read it for yourself).

Thanks to the publisher for sending me a copy of this to review.