This meme was hosted by Breaking the Spine and is meant to highlight some great pre-publication books we all can't wait to get our grubby little mitts on. I'm choosing to continue the tradition even though she has stopped.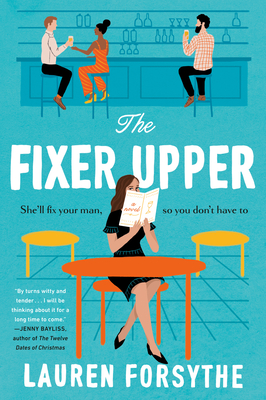 The Fixer Upper by Lauren Forsythe

The book is being released by G. P. Putnam's Sons on August 2, 2022.

The book's jacket copy says: In this funny and sharp romantic comedy, a woman with a knack for turning her boyfriends' lives around starts a professional service to help wrangle men, only to be unexpectedly matched with an old flame.

Ever since she can remember, Aly has been fixing everything around her: her parents' marriage, her colleagues' work problems, and her friends' love lives are just a few examples. After a chance meeting with an ex who has gone from living in his parents' basement to being a married project manager in three years, she realizes she's been fixing her boyfriends, too....

So, Aly decides to put her talents to good use and, alongside two work friends, sets up the Fixer Upper, an exclusive, underground service for women who are tired of unpaid emotional labor. Using little tricks and tips, Aly and her friends get the men to do the work themselves—to get out of the job they hate, sign up for that growth seminar, do more parenting. Before long, a high-profile Instagram star hires them to fix up her app developer boyfriend. There's just one catch—he's also Aly's childhood best friend and first love. As Aly tackles her biggest "fixer upper" yet, she'll have to come to terms with their complicated history and figure out how much to change someone she'd always thought was perfect as he is....