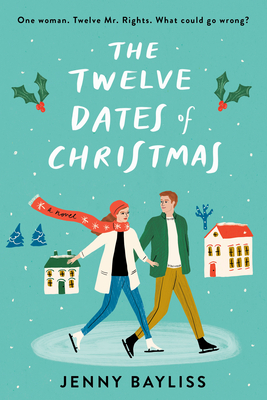 When you want a feel good, happily ever after kind of read, you can't do better than to pick up a sweet and charming, small, British village set Christmas rom-com. And that is exactly what Jenny Bayliss delivers in The Twelve Dates of Christmas.

Kate, a thirty something year old successful fabric designer and artist has moved back to the small village where she grew up. She's thoroughly happy living in her childhood home, close to her delightful father, and baking delicious sounding treats for her old friend Matt's coffee shop. But she wouldn't be against meeting the right man. So she allows her best friend Laura to convince her that signing up for an online dating agency's Twelve Dates of Christmas package will be fun. Each date is a different type of seasonally appropriate experience with a different guy. As anyone who has heard or experienced online dating might guess, some of the dates are disastrous. Some are friendly. Some are fun. Some are hilariously awful. And some are downright odd.

It's really no surprise who Kate ends up with in the end but the getting there is the draw of the story. Each chapter of the book takes on one date and Kate's day or days leading up to it. There is quite a bit of back story about her friendship with Laura and Matt, her relationship with her parents, her lovely father and her self-absorbed mother, and very detailed descriptions of the things that inspire her artwork. Bayliss has drawn the village of Blexford and its residents as incredibly appealing. There's a lot more to the story than just dating flops and even though the ending is predictable, it's a comfortable and satisfying predictable. Perhaps best read in the lead up to Christmas, this is overall a cute story.