This meme was hosted by Breaking the Spine and is meant to highlight some great pre-publication books we all can't wait to get our grubby little mitts on. I'm choosing to continue the tradition even though she has stopped.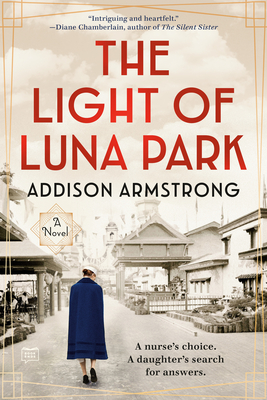 The Light of Luna Park by Addison Armstrong.

The book is being released by G. P. Putnam's Sons on August 10, 2021.

The book's jacket copy says: A nurse's choice. A daughter's search for answers.

New York City, 1926. Nurse Althea Anderson's heart is near breaking when she witnesses another premature baby die at Bellevue Hospital. So when she reads an article detailing the amazing survival rates of babies treated in incubators in an exhibit at Luna Park, Coney Island, it feels like the miracle she has been searching for. But the doctors at Bellevue dismiss Althea and this unconventional medicine, forcing her to make a choice between a baby's life and the doctors' wishes that will change everything.

Twenty-five years later, Stella Wright is falling apart. Her mother has just passed, she quit a job she loves, and her marriage is struggling. Then she discovers a letter that brings into question everything she knew about her mother, and everything she knows about herself.

The Light of Luna Park is a tale of courage and an ode to the sacrificial love of mothers.