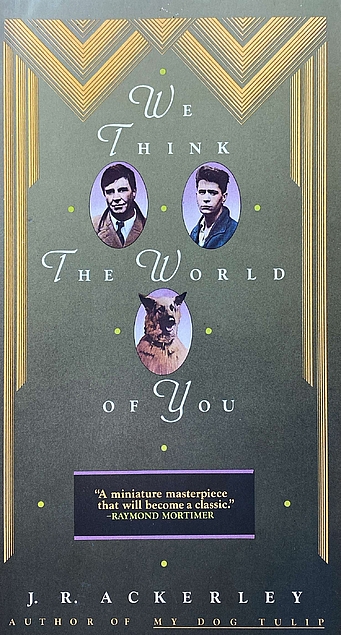 It has always been good to be a dog in my family. We often love them more than people. Like us, J.R. Ackerley famously loved his own dog furiously so it is not surprising that he would write a novel that uses a dog as a major plot driver in his queer classic, We Think the World of You.

Frank is a middle aged, middle class civil servant. He is in love with Johnny, a good looking working class man who has just been sent to prison for stealing. When he first visits Johnny in prison, Johnny asks Frank to look after his German Shepherd, Evie, but Frank refuses, leaving the beautiful dog to be neglected and ignored by Johnny's parents. As Frank engages in a passive aggressive bid for permission to visit Johnny, vying with Johnny's parents and wife, he falls for the dog, spending much of his emotional energy on trying to rescue her from Johnny's family.

None of the characters here are likable. Frank condescends to Johnny's family, never realizing that they (and Johnny himself) do not in fact, think the world of him, but are using him for financial gain. Every last character is less likable than Evie, who is definitely pitiable and misused by everyone around her. There is definite social commentary here on the lives of working class Britons but the characters are all seen through Frank's eyes so they are in fact little better than stereotypes; even Johnny, who he professes to love, comes across as a bit of a careless dimwit. The female characters are terrible and it's hard to say whether that's Frank's misogyny or indeed Ackerley's. Others have found humor in the telling but I missed that entirely. I'd have felt sorry for Frank, who Johnny basically used as a bottomless wallet, if he hadn't also been such a snob. The writing is very well done but the book as a whole was dull, populated as it was by hateful, opportunistic characters.