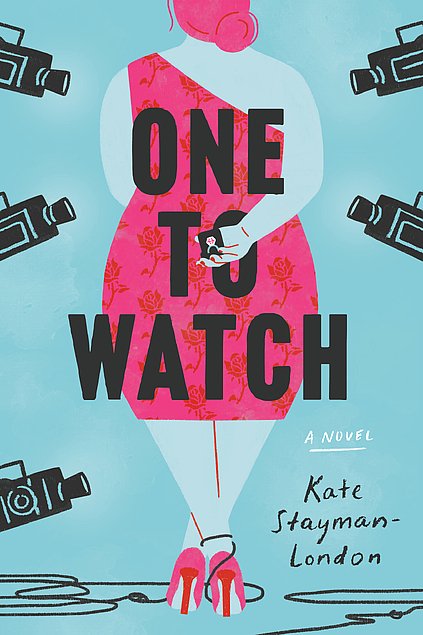 I am famously not much of a television watcher. Yeah, I know. My avid tv watcher husband wonders how we managed to ever get together given how different our interests are. ::shrug:: So it will surprise absolutely no one who knows me to hear that I've never seen even an episode of The Bachelor or The Bachelorette (are they considered different shows?). I do like to defy expectations though so even without having any interest whatsoever in the show, I couldn't wait to read Kate Stayman-London's novel One to Watch, which clearly owes a lot to the Bachelor franchise.

Bea Schumacher is a plus-size fashion blogger who hasn't been particularly lucky in love, having just been ghosted by the old friend she has always fantasized about after sleeping with him despite knowing that he's engaged to someone else. After the ghosting quickly followed by a not so great Tinder date, she tweets out some critical comments about the way that plus size people are always excluded from reality shows like her favorite, Main Squeeze. Her tweets go viral, leading to her being contacted to be the show's first plus size lead. She's officially done with love but decides to go on the show in order to up representation, having no idea how vulnerable being this much in the limelight will make her or how far she still has to go to be as confident inside as she is outside.

I don't think there's really anyone out there who thinks that reality shows are fully real, is there? Stayman-London has captured some crazy staged situations and ratings grabbing shenanigans on the show that feel like something that real producers might try to pull. When Bea is filming the show, the story is fun and flirty, right up until it isn't, and she is fat shamed and her own publicly hidden insecurities come racing to the fore again. She might present as sassy and confident but she hasn't fully freed herself from the attitudes and stereotypes she's heard all her life. The novel is told in tweets, texts, blog entries, transcripts, and interviews woven through the more traditional narrative, grounding this firmly in the present day. At times this felt like overkill especially for a reader who doesn't often immerse herself in all of these various media sources. The novel is humorous and cute but when Bea is hurt, the reader is hurt along with her. It makes sense that the men Bea has to choose from on Main Squeeze are also a diverse bunch since she's the first plus size lead. It does feel a bit unrealistic that almost all of the men Bea seriously considers are from an under represented group themselves and in some ways the careful inclusion of each group feels a little too much like tokenism. The ending was entirely predictable even as it leaves the reader with a huge smile and plenty of warm fuzzies. Readers who enjoy rom coms, especially those that tackle a slightly unusual social issue, and who love it when a heroine grows and learns to truly accept herself, will find much to enjoy here.