This meme was hosted by Breaking the Spine and is meant to highlight some great pre-publication books we all can't wait to get our grubby little mitts on. I'm choosing to continue the tradition even though she has stopped.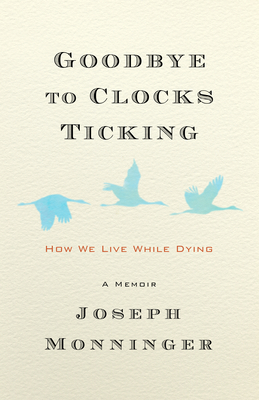 Goodbye to Clocks Ticking by Joseph Monninger

The book is being released by Steerforth on March 14, 2023.

The book's jacket copy says: An uplifting journey of truly seeing and appreciating what makes life worth living in the year following a terminal diagnosis

For fans of Ann Patchett's These Precious Days and Joan Didion's The Year of Magical Thinking

Goodbye to Clocks Ticking is an unforgettable book that tells the story of a singular year of challenges, insights, and peculiar gifts. It is also a sort of postcard from a place many of us will one day visit.

After thirty-two years of teaching, Joe Monninger, an avid outdoorsman in robust health, was looking forward to a long retirement with the love of his life in a cabin beside a New England estuary. Three days after his last class, however, he's diagnosed with terminal lung cancer, even though he has not smoked for more than 30 years. It was May, and he might be dead by early fall.

Soon Joe learned, however, that he was a genetic match for treatment with a drug that could not cure his cancer, but could prolong his life. With this temporary reprieve, he sets out to live life to the fullest and to write about the year of grace that follows, from his cancer treatments to his innermost thoughts.

Goodbye to Clocks Ticking is a work of wisdom and insight. Joe Monninger's aubade to the world that he knew and loved offers a page-turning, suspenseful story to relish and to celebrate, to share and to discuss, to ponder and to learn from.