This meme was hosted by Breaking the Spine and is meant to highlight some great pre-publication books we all can't wait to get our grubby little mitts on. I'm choosing to continue the tradition even though she has stopped.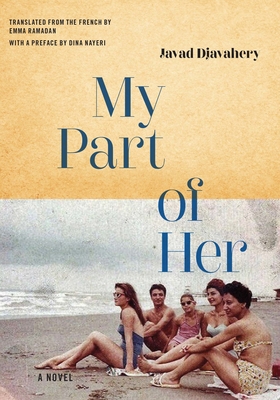 My Part of Her by Javad Djavahery.

The book is being released by Restless Books on Febuary 11, 2020.

The book's jacket copy says: In exiled Iranian author Javad Djavahery's captivating English debut, a youthful betrayal during a summer on the Caspian sea has far-reaching consequences for a group of friends as their lives are irrevocably altered by the Revolution.

For our unnamed confessor, the summer months spent on the Caspian Sea during the 1970s are a magically transformative experience. There, he is not the "poor relative from the North," but a welcome guest at his wealthy cousin Nilou's home and the gatekeeper of her affections. He revels in the power of orchestrating the attentions of her many admirers, granting and denying access to her would-be lovers. But in a moment of jealousy and youthful bravado, he betrays and humiliates an unlikely suitor, setting into motion a series of events that will have drastic repercussions for all of them as the country is forever transformed by the Iranian Revolution a few short years later.

Over the next twenty years, the lingering effects of that betrayal set the friends on radically different paths in the wake of political, religious, and cultural upheaval. Their surprising final reunion reveals the consequences of revenge and self-preservation as they each must decide whether and how to forget the past. Urgent and gorgeously written, My Part of Her captures the innocence of youth, the folly of love, and the capriciousness of fate as these friends find themselves on opposing sides of the seismic rifts of history.