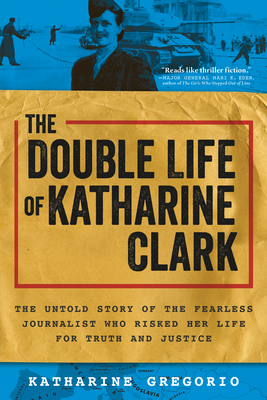 Communism. Dissidents. Repression. Secret Police. How do we know about these things today? We know about them because of the reporters and journalists who risked their own access and livelihoods to inform the West what was going on in the countries behind the Iron Curtain, to the people and the institutions not represented by a free press. Most of these journalists were men. But not all of them. Katharine Clark was one of the few women who lived this life too. She not only reported on Yugoslavia, but she was instrumental in getting the writings of former Vice President and outspoken dissident Milovan Djilas to the West. This is the story of her drive for the truth, her friendship with Milovan and his wife Steffie, and what she risked in smuggling Djilas' work, including The New Class, out of the communist country right under Tito's nose. It is a history forgotten until now.

Katharine Gregorio is Clark's great-niece and namesake and she has done an impressive amount of research into her great-aunt's life and work overseas. Spanning the decade during which Clark and her husband, a fellow reporter for another news outlet, covered the unrest in Eastern Europe and that part of the world's relationship with communism and the Soviet Union, this is less a biography of Clark than the tale of how she came to play such a pivotal role in Djilas' access to the West. While Gregorio does weave some of Clark's personal life into the book, the overall focus is on the single-minded drive to get a story, the obstacles Clark overcame as the only female accredited journalist in the area, and the pulse pounding, spy novel worthy ways in which she got information out of the country while trying to protect Djilas and his family from their own government.

Although this is non-fiction, Gregorio has chosen to share Clark's interior thoughts and feelings. And while these might be reasonable extrapolations from diaries and letters, the reader so frequently knows Clark's musings that they come across as invented. Once Gregorio gets to Clark's work with Djilas and the means she used to make sure that his work would be published and publicized (to help keep him safe), the narrative slows down under many, many details, ostensibly because this was what her great-aunt chose to record so meticulously, in contrast to the time before she became friendly with Djilas. The tension was certainly higher once she started working with the former Communist official on his papers but the unequally detailed recounting made the tale lopsided. The fact that there were only a few brief paragraphs about the last twenty years of Clark's life was a bit of a disappointment; focused as the story was only on her pivotal role in Djilas's public denunciation of Communism rather than her life as a whole. Katharine Clark was an impressive woman with nerves of steel and it's wonderful that her role in all of this is finally being told but I got bogged down in some of the minutia and often felt at a remove from the story itself. Fans of Cold War history, readers who want a close look at the importance of a free press, and those who enjoy stories about trailblazing women will likely enjoy this narrative non-fiction, despite my noted reservations.

Thanks to the publisher for sending me a copy of this book for review.