This meme was hosted by Breaking the Spine and is meant to highlight some great pre-publication books we all can't wait to get our grubby little mitts on. I'm choosing to continue the tradition even though she has stopped.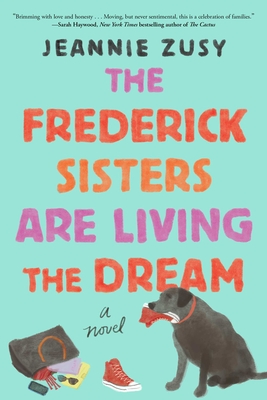 The Frederick Sisters Are Living the Dream by Jeannine Zusy

The book is being released by Atria on September 20, 2022.

The book's jacket copy says: Eleanor Oliphant Is Completely Fine meets Early Morning Riser with a dash of Where'd You Go, Bernadette in this very funny, occasionally romantic, and surprisingly moving novel about how one woman's life is turned upside down when she becomes caregiver to her sister with special needs.

Every family has its fault lines, and when Maggie gets a call from the ER in Maryland where her older sister lives, the cracks start to appear. Ginny, her sugar-loving and diabetic older sister with intellectual disabilities, has overdosed on strawberry Jell-O.

Maggie knows Ginny really can't live on her own, so she brings her sister and her occasionally vicious dog to live near her in upstate New York. Their other sister, Betsy, is against the idea but as a professional surfer, she is conveniently thousands of miles away.

Thus, Maggie's life as a caretaker begins. It will take all of her dark humor and patience, already spread thin after a separation, raising two boys, freelancing, and starting a dating life, to deal with Ginny's diapers, sugar addiction, porn habit, and refusal to cooperate. Add two devoted but feuding immigrant aides and a soon-to-be ex-husband who just won't go away, and you've got a story that will leave you laughing through your tears as you wonder who is actually taking care of whom.