This meme was hosted by Breaking the Spine and is meant to highlight some great pre-publication books we all can't wait to get our grubby little mitts on. I'm choosing to continue the tradition even though she has stopped.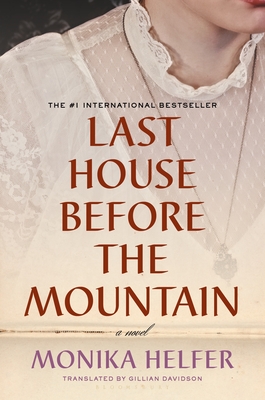 Last House Before the Mountain by Monika Helfer

The book is being released by Bloomsbury Publishing on April 11, 2023.

The book's jacket copy says: For readers of Ian McEwan, Elena Ferrante, and Julie Orringer, the spellbinding, internationally bestselling, multigenerational family saga set in a fractured rural village in WWI Austria.

Maria and Josef live with their children in a valley in westernmost Austria. When the First World War breaks out and Josef is drafted into the army, Maria is left to provide for her family alone. Every day is a struggle against starvation, the harsh alpine climate and the hostile nearby villagers who see Maria as little more than a beautiful temptress out for the men left behind. But when a red-haired stranger arrives in the village, Maria feels happiness seep back into her life and she faces a choice whose consequences will affect the lives of her family for generations to come.

Based on the internationally bestselling and award-winning Austrian novelist Monika Helfer's own family history, Last House Before the Mountain is a propulsive, haunting, multi-layered saga about love, family, and the hidden wages of war.