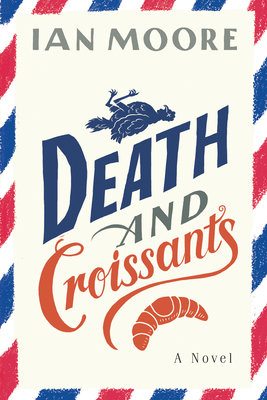 Sometimes you need to read a book that will make you chuckle and leave you with a smile on your face. I'm not even sure where I came across Ian Moore's Death and Croissants, the first in his Follet Valley mystery series, but I am glad I did for the light-hearted escapism that this caper in light, cozy mystery form provided me.

Richard Ainsworth is a middle aged Englishman who runs a bed and breakfast in the French countryside. He is a former film historian and sees much of his life through the lens of his favorite films. Not that his life is nearly that interesting. He is eminently forgettable and his fondest wish is to live a quiet life, blending in with the wallpaper. This becomes an unfortunate desire when one of his guests disappears, leaving behind nothing beyond smashed glasses and a bloody handprint on that wallpaper. Richard would prefer to ignore this turn-up but another of his guests, the very attractive Valérie D'Orçay, convinces him to investigate the disappearance and possible murder. What follows is not exactly madcap but it has a similar feel to it and Richard hasn't felt so alive since his estranged wife left him. Richard is very much the bumbling sidekick to Valérie's intrepid investigator but his offhand and unthinking musings do inspire her to work towards solving the mystery.

The cast of characters here is truly bananas: middle aged swingers, Mafia hitmen, identical twins who hate each other, a dog in a purse, 3 hens named for famous sirens of the silver screen, an ineffective French policeman, a terrifying French cleaning lady, and more. Moore has populated his giggle inducing mystery with tongue in cheek clichés and outlandish characters but he gets away with all of it. It is pure entertainment to watch Richard try to juggle his not exactly ex wife, the manipulative and secretive but kindly femme fatale, and his outraged adult daughter even as he tries to take over the direction of his own life. I thoroughly enjoyed this humorous and charmingly quirky romp, even though I sometimes felt as lost as Richard was. This is the perfect book to read when you want a lighthearted book to carry you along on a lively adventure.