This meme was hosted by Breaking the Spine and is meant to highlight some great pre-publication books we all can't wait to get our grubby little mitts on. I'm choosing to continue the tradition even though she has stopped.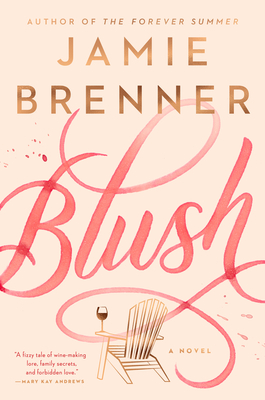 Blush by Jamie Brenner.

The book is being released by G.P. Putnam's Sons on June 22, 2021.

The book's jacket copy says: From acclaimed author Jamie Brenner comes a stunning new novel about three generations of women who discover that the scandalous books of their past may just be the key to saving their family's future.

For decades, the Hollander Estates winery has been the premier destination for lavish parties and romantic day trips on the North Fork of Long Island. But behind the lush vineyards and majestic estate house, the Hollander family fortunes have suffered and the threat of a sale brings old wounds to the surface. For matriarch Vivian, she fears that this summer season could be their last—and that selling their winery to strangers could expose a dark secret she's harbored for decades. Meanwhile, her daughter, Leah, who was turned away from the business years ago, finds her marriage at a crossroads and returns home for a sorely needed escape. And granddaughter Sadie, grappling with a crisis of her own, runs to the vineyard looking for inspiration.

But when Sadie uncovers journals from Vivian's old book club dedicated to scandalous novels of decades past, she realizes that this might be the distraction they all need. Reviving the "trashy" book club, the Hollander women find that the stories hold the key to their fight not only for the vineyeard, but for the life and love they've wanted all along.

Blush is a bighearted story of love, family, and second chances, and an ode to the blockbuster novels that have shaped generations of women.