This meme was hosted by Breaking the Spine and is meant to highlight some great pre-publication books we all can't wait to get our grubby little mitts on. I'm choosing to continue the tradition even though she has stopped.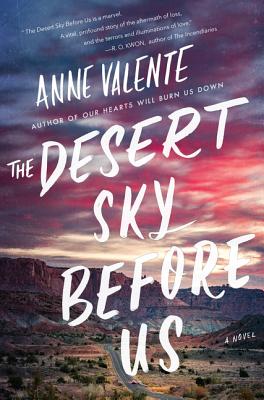 The Desert Sky Before Us by Anne Valente.

The book is being released by William Morrow Paperbacks on May 14, 2019.

The book's jacket copy says: From award-winning author Anne Valente comes this poignant and unforgettable literary novel of two estranged sisters—one, a former racecar driver and the other a recently-released prisoner—who embark on a road trip together to complete the scavenger hunt their mother designed for them before her death.

When Billie is released from a correctional facility in Decatur, her sister Rhiannon is there to meet her, even though the two haven't seen each other in months. Painful secrets and numerous unspoken betrayals linger between them—but most agonizing is the sudden passing of their mother, a renowned paleontologist.
br> Rhiannon and Billie must overcome their differences as they set off on a road trip west, following the breadcrumb-trail of their late mother's scavenger hunt, a sort of second funeral she planned in her final days. The sisters know the trail will end in Utah at the famous Cleveland-Lloyd Quarry, where their mother spent her career researching dinosaur fossils. But the seemingly endless days on the road soon take their toll, forcing Rhiannon and Billie to confront their hostilities and revisit old memories—both good and bad.

As they travel across the heart of America, and as a series of plane crashes in the news make their journey all the more urgent, the two sisters begin to rediscover each other and to uncover their late mother's veiled second life, taking them on an unexpected emotional journey inward—and forcing them to come to terms with their own choices in life.