This meme is hosted by Breaking the Spine and is meant to highlight some great pre-publication books we all can't wait to get our grubby little mitts on.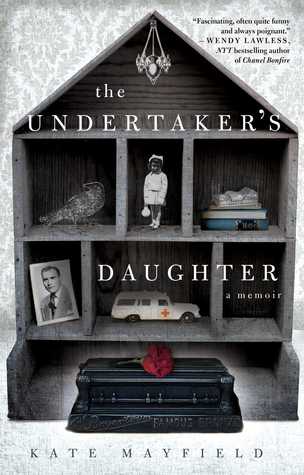 The Undertaker's Daughter by Kate Mayfield. The book is being released by Gallery Books on January 13, 2015.

Amazon says this about the book: What if the place you called "home" happened to be a funeral home? Kate Mayfield explores what it meant to be the daughter of a small-town undertaker in this fascinating memoir evocative of Six Feet Under and The Help, with a hint of Mary Roach's Stiff.

The first time I touched a dead person, I was too short to reach into the casket, so my father picked me up and I leaned in for that first, empty, cold touch. It was thrilling, because it was an unthinkable act.

After Kate Mayfield was born, she was taken directly to a funeral home. Her father was an undertaker, and for thirteen years the family resided in a place nearly synonymous with death. A place where the living and the dead entered their house like a vapor. The place where Kate would spend the entirety of her childhood. In a memoir that reads like a Harper Lee novel, Mayfield draws the reader into a world of Southern mystique and ghosts.

Kate's father set up shop in a small town where he was one of two white morticians during the turbulent 1960s. Jubilee, Kentucky, was a segregated, god-fearing community where no one kept secrets—except the ones they were buried with. By opening a funeral home, Kate's father also opened the door to family feuds, fetishes, and victims of accidents, murder, and suicide. The family saw it all. They also saw the quiet ruin of Kate's father, who hid alcoholism and infidelity behind a cool, charismatic exterior. As Mayfield grows from trusting child to rebellious teen, she begins to find the enforced hush of the funeral home oppressive, and longs for the day she can escape the confines of her small town.

In The Undertaker's Daughter, Kate has written a triumph of a memoir. This vivid and stranger-than-fiction true story ultimately teaches us how living in a house of death can prepare one for life.