This past two week's mailbox arrivals:


The Long Accomplishment by Rick Moody came from Macmillan.

Marriage is hard, even without outside forces having an impact, so I am looking forward to this memoir of a second marriage. Also, Rick Moody is a magnificent writer so I can't wait to see how he handles this very personal story.


Midnight at the Bluebird Cafe by Heather Webber came from Macmillan.

Could you resist this cover? I mean seriously! Also, magical realism, romance, and a small Southern town? Oh yes, please!


Red, White and Royal Blue by Casey McQuiston came from Macmillan.

The US First Son falls in love with the second son of the British Crown? So much potential, right? I have already read and thoroughly enjoyed this romance. (Review to come.)


Hunters Moon by Philip Caputo came from Macmillan.

I read his A Rumor of War decades ago and liked it so much I was thrilled to see this one coming out. Plus it's a collection of interconnected short stories set in the place of my heart, the Upper Peninsula of Michigan. I can never get enough of the UP in life and in books.


The Right Sort of Man by Allison Montclair came from Macmillan.

When two women found a marriage bureau in post WWII London and their first client turns up murdered, a romping sort of mystery must ensue, right? Sounds great to me!


In West Mills by De'Shawn Charles Winslow came from Macmillan.

How can you not want to read a book about a woman living life on her own terms but reaching out for a little bit of help from a neighbor in North Carolina in a rural African American community? I am looking forward to this a lot.


A Nice Cup of Tea by Allison Celia Imrie came from Macmillan.

A cozy mystery set in Nice with ex-pats, a restaurant, and family secrets sounds right up my alley.


Honestly, We Meant We by Grant Ginder came from Macmillan.

When a classics professor's life implodes, she takes her family to a Greek island to try and put them all back together again. This sounds comedic and dramatic both and I can't wait!


The Guest Book by Sarah Blake came from Macmillan.

I thoroughly enjoyed Blake's Grange House so I am looking forward to this one about three generations of a family and their summer home.


Bethlehem by Karen Kelly came from Macmillan.

Look at this gorgeous cover! And that it's a family drama about two families in Bethlehem, PA during the height of the steel industry there makes it practically irresistible.


The Burning Chambers by Kate Mosse came from Macmillan.

Historical fiction, Huguenots, an anonymous letter, and danger, this should prove completely thrilling.


The Flatshare by Beth O'Leary came from Macmillan.

With the kooky premise of two people who work opposite schedules and share a flat but who have never met, this is intriguing.


The Electric Hotel by Dominic Smith came from Macmillan.

There's something so appealing about historical fiction about the beginning of the film industry, isn't there?


Carnegie Hill by Jonathan Vatner came from Macmillan.

How much fun to follow a young, wealthy woman who looks to her married, but in crisis, neighbors to help her determine if she should marry her fiance.


The History of Living Forever by Jake Wolff came from Macmillan.

A gifted chemistry student who falls in love with his teacher follows the journals of this teacher to try and find the Elixir of Life in time to cure his terminal father. With such an interesting premise, how can you not be interested?


The Last Book Party by Karen Dukess came from Macmillan.

I do love books set in the publishing world so this one about a young woman being invited to the book party of the year is guaranteed to captivate me.


Golden Child by Claire Adam came from TLC Book Tours and SJP for Hogarth for a book tour.

I've already reviewed this one here.


Nobody's Sweetheart Now by Maggie Robinson came from me for myself.

I don't usually like ghost stories but I am curious about this 1920s mystery with a ghost helping in the detecting after a murder interrupts his wife's dinner party.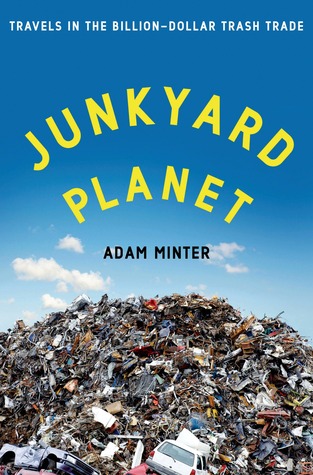 Junkyard Planet by Adam Minter came from me for myself.

I'm curious about what happens to our recycling so I'm interested in reading this book about it.


The Magnetic Girl by Jessica Handler came from Hub City Press.

About a girl who can control the thoughts of those around her briefly and goes to vaudeville, conducting energy by touch, this sounds unusual and captivating.


Crazy Cupid Love by Amanda Heger came from me for myself.

This romance between a woman descended from Eros and her mentor in the family's Cupid for Hire shop sounds like a fun and kicky read.


Cluny Brown by Margery Sharp came from me for myself.

I've heard wonderful things about Margery Sharp, a sort of forgotten author, who writes about domestic England just before the war and I am very excited to delve into this novel about a maid who doesn't seem to know or care about her place in society.


Here and Now and Then by Mike Chen came from me for myself.

About a time traveling secret agent who has to break rules and travel through time to save his daughter, this is the sort of sci-fi/fantasy that I am attracted to.

If you want to see the marvelous goodies in other people's mailboxes, make sure to visit Mailbox Monday and have fun seeing how we are all doing our part to keep the USPS and delivery services viable.