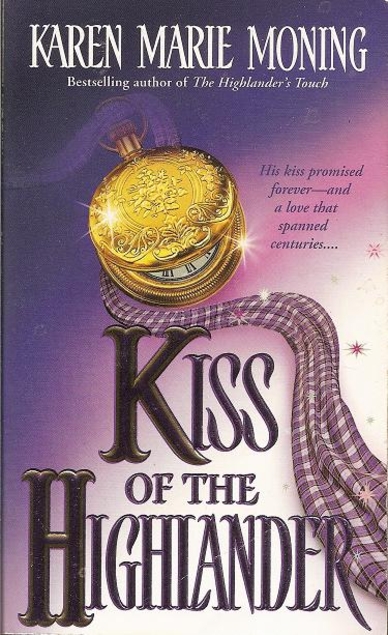 After I blazed through the Outlander quartet twenty years ago (and yes, I know there are 4 more than that now as well as another two planned), I added a lot of Scotland set books to my collection. In fact, I probably added Karen Marie Moning's The Kiss of the Highlander specifically because the jacket copy on my mass market paperback sounds an awful lot like Outlander. There's time travel and romance and danger, a more modern heroine and an historical hero. In fact, while these elements are all there, this is a significantly different book than Outlander, more firmly in the romance genre and with the addition of magic and druids.

Gwen Cassidy's life is pretty dull. She works for an insurance company processing claims and she has no personal life to speak of. The tour around Scotland that she's signed up for is populated by senior citizens instead of potential love interests. She's never going to lose her virginity at this rate. When she heads into the Highland hills to have some time to be alone and think, she ends up falling into a hidden cave, landing smack dab on top of a braw, sleeping Highlander. When Drustan awakens, he tells her that he is The MacKeltar, that he's from 500 years in the past, and that he needs to get back to his own century to save his clan. She thinks it's possible he's a mental patient but she agrees to help him get back to his castle, thinking that she can then give over care of this strange but compelling man to his family. As she sees his reaction to the 20th century along the way to his castle, she starts to wonder if he is indeed telling the truth and, of course, to fall for him as he is falling for her in return. When she sees who he really is and what he is capable of, history, the present, and everything around them will change for the two of them.

Gwen as the heroine is an interesting character. She is incredibly smart (a gifted physicist) but she's also rather pitiful and not great interpersonally thanks to her late, unfeeling parents who only valued her for her potential contributions to science. Drustan is very much a stereotypical sixteenth century hero. He's ridiculously chauvinistic, even when at the mercy of Gwen's time period and her continued goodwill. Of course, he is also chiseled and delicious looking so despite his overbearing high-handedness, Gwen's hormones cannot wait to tango with him. Her intelligence challenges him, something that he quickly learns to appreciate in the present day but that his past persona really struggles with, keeping them apart despite their white hot lust for each other. The plot is quite involved given the time travel aspect but everything is explained quite well and easily enough so that each part of the story is as believable as something predicated on magic and time travel can be. The ending was amazing and incredibly inventive and although there are more books in the series (and three prior to this one as well), this felt complete in its primary plot line. If you are a historical romance reader, a fan of sexy time travel, want to read an inversion of the Sleeping Beauty fairy tale, or just like the idea of a man in a plaid, this will absolutely be your guilty pleasure and I'm happy to say that although this was published in 2001, it holds up just fine in 2017.