This meme was hosted by Breaking the Spine and is meant to highlight some great pre-publication books we all can't wait to get our grubby little mitts on. I'm choosing to continue the tradition even though she has stopped.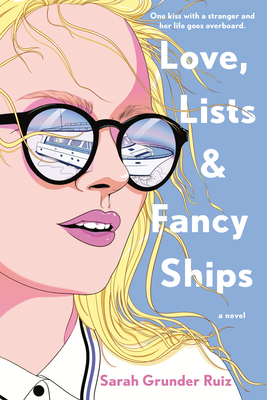 Love, Lists and Fancy Ships by Sarah Grunder Ruiz

The book is being released by Berkley on November 23, 2021.

The book's jacket copy says: Sometimes a yacht, a bold bucket list, and a kiss with a handsome stranger are all a person needs to dive into the deep end of life.

For the last year, yacht stewardess Jo Walker has been attempting to complete a bucket list of thirty things she wants to accomplish by her thirtieth birthday. Jo has almost everything she's ever wanted, including a condo on the beach (though she's the youngest resident by several decades) and an exciting job (albeit below deck) that lets her travel the world.

Jo is on track until the death of her nephew turns her life upside down, and the list falls by the wayside. But when her two nieces show up unannounced with plans to stay the summer, they discover her list and insist on helping Jo finish it. Though the remaining eight items (which include running a marathon, visiting ten countries, and sleeping in a castle) seem impossible to complete in twelve weeks, Jo takes on the challenge.

When she summons the courage to complete item number five--kiss a stranger--and meets Alex Hayes, all bets are off. As her feelings for Alex intensify and Jo's inability to confront difficult emotions about her family complicates her relationships, she must learn to quit playing it safe with her heart before she loses what matters most.