This meme was hosted by Breaking the Spine and is meant to highlight some great pre-publication books we all can't wait to get our grubby little mitts on. I'm choosing to continue the tradition even though she has stopped.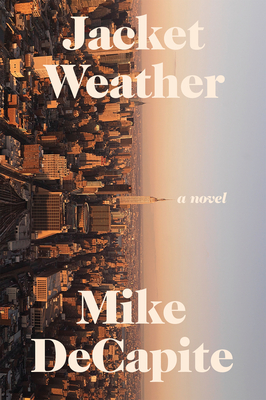 Jacket Weather by Mike DeCapite

The book is being released by Soft Skull on October 12, 2021.

The book's jacket copy says: Mike knew June in New York's downtown music scene in the eighties. Back then, he thought she was "the living night—all the glamour and potential of a New York night when you're 25." Now he's twice divorced and happy to be alone—so happy he's writing a book about it. Then he meets June again. "And here she was with a raincoat over the back of the chair talking about getting a divorce and saying she's done with relationships. Her ice-calm eyes are the same, the same her glory of curls."

Jacket Weather is about awakening to love—dizzying, all-consuming, worldview-shaking love—when it's least expected. It's also about remaining alert to today's pleasures—exploring the city, observing the seasons, listening to the guys at the gym—while time is slipping away. Told in fragments of narrative, reveries, recipes, bits of conversation and snatches of weather, the book collapses a decade in Mike and June's life and shifts a reader to a glowing nostalgia for the present.