This meme was hosted by Breaking the Spine and is meant to highlight some great pre-publication books we all can't wait to get our grubby little mitts on. I'm choosing to continue the tradition even though she has stopped.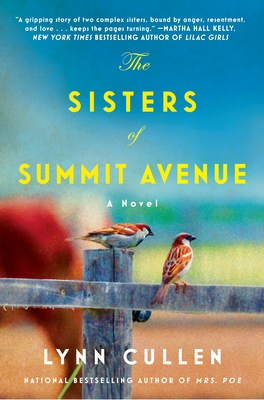 The Sisters of Summit Avenue by Lynn Cullen.

The book is being released by Gallery Books on September 10, 2019.

The book's jacket copy says: From Lynn Cullen, the bestselling author of Mrs. Poe and Twain's End, comes a powerful novel set in the Midwest during the Great Depression, about two sisters bound together by love, duty, and pain.

Ruth has been single-handedly raising four young daughters and running her family's Indiana farm for eight long years, ever since her husband, John, fell into a comatose state, infected by the infamous "sleeping sickness" devastating families across the country. If only she could trade places with her older sister, June, who is the envy of everyone she meets: blonde and beautiful, married to a wealthy doctor, living in a mansion in St. Paul. And June has a coveted job, too, as one of "the Bettys," the perky recipe developers who populate General Mills' famous Betty Crocker test kitchens. But these gilded trappings hide sorrows: she has borne no children. And the man she used to love more than anything belongs to Ruth.

When the two sisters reluctantly reunite after a long estrangement, June's bitterness about her sister's betrayal sets into motion a confrontation that's been years in the making. And their mother, Dorothy, who's brought the two of them together, has her own dark secrets, which might blow up the fragile peace she hopes to restore between her daughters.

An emotional journey of redemption, inner strength, and the ties that bind families together, for better or worse, The Sisters of Summit Avenue is a heartfelt love letter to mothers, daughters, and sisters everywhere.