This meme was hosted by Breaking the Spine and is meant to highlight some great pre-publication books we all can't wait to get our grubby little mitts on. I'm choosing to continue the tradition even though she has stopped.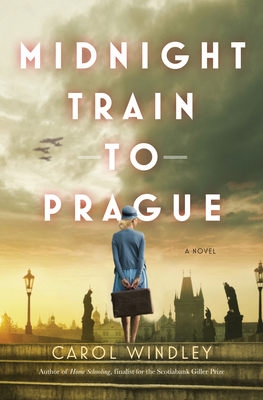 Midnight Train to Prague by Carol Windley.

The book is being released by Atlantic Monthly Press on November 3, 2020.

The book's jacket copy says: The acclaimed author of Home Schooling returns with Midnight Train to Prague, a timeless tale of friendship, romance, betrayal, and survival that spans the turbulent decades of the twentieth century, through two world wars and between countries and continents.

In 1927, as Natalia Faber travels from Berlin to Prague with her mother, their train is delayed in Saxon Switzerland. In the brief time the train is idle, Natalia learns the truth about her father--who she believed died during her infancy--and meets a remarkable woman named Dr. Magdalena Schaeffer, whose family will become a significant part of her future. Shaken by these events, Natalia arrives at a spa on the shore of Lake Hev z in Hungary. Here, she meets Count Mikl's Andorj n, a journalist and adventurer. The following year, they will marry.

Years later, Germany has invaded Russia. When Mikl's fails to return from the eastern front, Natalia goes to Prague to wait for him. With a pack of tarot cards, she sets up shop as a fortune teller, and she meets Anna Schaeffer, the daughter of the woman she met decades earlier on that stalled train. The Nazis accuse Natalia of spying, and she is sent to a concentration camp. Though they are separated, her friendship with Anna grows as they fight to survive and to be reunited with their families.