This meme was hosted by Breaking the Spine and is meant to highlight some great pre-publication books we all can't wait to get our grubby little mitts on. I'm choosing to continue the tradition even though she has stopped.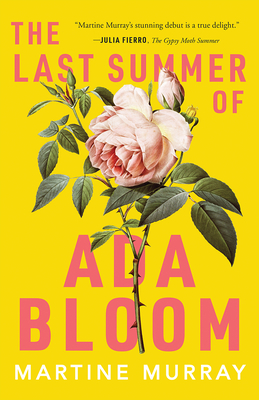 The Last Summer of Ada Bloom by Martine Murphy.

The book is being released by Tin House Books on April 7, 2020.

The book's jacket copy says: A big-hearted story of a family filled with secrets, and the ways they grow up—and apart—over the course of a single, life-altering summer.

In a small country town during one long, hot summer, the Bloom family is beginning to unravel. Martha is straining against the confines of her life, lost in regret for what might have been, when an old flame shows up. In turn, her husband Mike becomes frustrated with his increasingly distant wife. Marital secrets, new and long-hidden, start to surface—with devastating effect. And while teenagers Tilly and Ben are about to step out into the world, nine-year-old Ada is holding onto a childhood that might soon be lost to her.

When Ada discovers an abandoned well beneath a rusting windmill, she is drawn to its darkness and danger. And when she witnesses a shocking and confusing event, the well's foreboding looms large in her mind—a driving force, pushing the family to the brink of tragedy. For each family member, it's a summer of searching—in books and trees, at parties, in relationships new and old—for the answer to one of life's most difficult questions: how to grow up?

The Last Summer of Ada Bloom is an honest and tender accounting of what it means to come of age as a teen, or as an adult. With a keen eye for summer's languor and danger, and a sharp ear for the wonder, doubt, and longing in each of her characters' voices, Martine Murray has written a beguiling story about the fragility of family relationships, about the secrets we keep, the power they hold to shape our lives, and about the power of love to somehow hold it all together.