This meme was hosted by Breaking the Spine and is meant to highlight some great pre-publication books we all can't wait to get our grubby little mitts on. I'm choosing to continue the tradition even though she has stopped.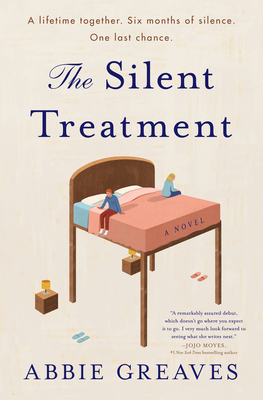 The Silent Treatment by Abbie Greaves.

The book is being released by William Morrow on April 7, 2020.

The book's jacket copy says: Resonant with the emotional power of the bestselling novels of David Nicholls and Jojo Moyes, a rich and poignant debut about lies, loss, and a transcendent love at the heart of a troubled marriage.

A lifetime together.
Six months of silence.
One last chance.

By all appearances, Frank and Maggie share a happy, loving marriage. But for the past six months, they have not spoken. Not a sentence, not a single word. Maggie isn't sure what, exactly, provoked Frank's silence, though she has a few ideas.

Day after day, they have eaten meals together and slept in the same bed in an increasingly uncomfortable silence that has become, for Maggie, deafening.

Then Frank finds Maggie collapsed in the kitchen, unconscious, an empty package of sleeping pills on the table. Rushed to the hospital, she is placed in a medically induced coma while the doctors assess the damage.

If she regains consciousness, Maggie may never be the same. Though he is overwhelmed at the thought of losing his wife, will Frank be able to find his voice once again—and explain his withdrawal—or is it too late?