This meme was hosted by Breaking the Spine and is meant to highlight some great pre-publication books we all can't wait to get our grubby little mitts on. I'm choosing to continue the tradition even though she has stopped.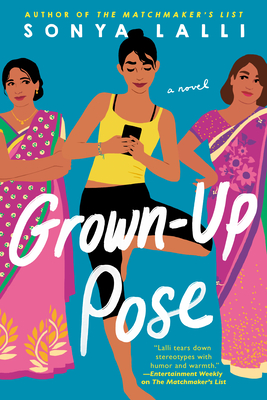 Grown Up Pose by Sonya Lalli.

The book is being released by Berkley on March 24, 2020.

The book's jacket copy says: A delightfully modern look at what happens for a young woman when tradition, dating, and independence collide, from acclaimed author Sonya Lalli.

Adulting shouldn't be this hard. Especially in your thirties. Having been pressured by her tight-knit community to get married at a young age to her first serious boyfriend, Anu Desai is now on her own again and feels like she is starting from the beginning.

But Anu doesn't have time to start over. Telling her parents that she was separating from her husband was the hardest thing she's ever done—and she's still dealing with the fallout. She has her young daughter to support and when she invests all of her savings into running her own yoga studio, the feelings of irresponsibility send Anu reeling. She'll be forced to look inside herself to learn what she truly wants.