This meme was hosted by Breaking the Spine and is meant to highlight some great pre-publication books we all can't wait to get our grubby little mitts on. I'm choosing to continue the tradition even though she has stopped.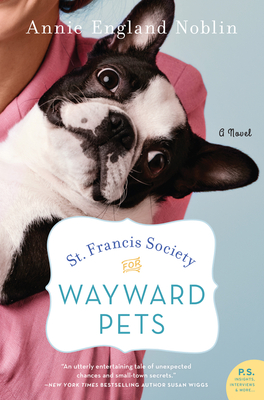 St. Francis Society for Wayward Pets by Annie England Noblin.

The book is being released by William Morrow on January 14, 2020.

The book's jacket copy says: Laid off, cheated on, mugged: what else can go wrong in Maeve Stephens' life? So when she learns her birth mother has left her a house, a vintage VW Beetle, and a marauding cat, in the small town of Timber Creek, Washington, she packs up to discover the truth about her past.

She arrives to the sight of a cheerful bulldog abandoned on her front porch, a reclusive but tempting author living next door, and a set of ready-made friends at the St. Francis Society for Wayward Pets, where women knit colorful sweaters for the dogs and cats in their care. But there's also an undercurrent of something that doesn't sit right with Maeve. What's the secret (besides her!) that her mother had hidden?

If Maeve is going to make Timber Creek her home, she must figure out where she fits in and unravel the truth about her past. But is she ready to be adopted again—this time, by an entire town…?