This meme was hosted by Breaking the Spine and is meant to highlight some great pre-publication books we all can't wait to get our grubby little mitts on. I'm choosing to continue the tradition even though she has stopped.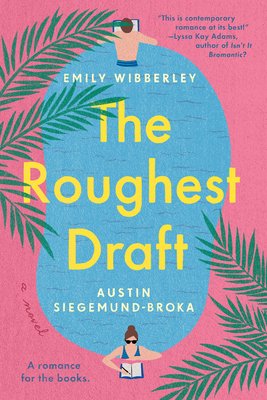 The Roughest Draft by Emily Wibberley and Austin Siegemund-Broka

The book is being released by Berkley on January 25, 2022.

The book's jacket copy says: They were cowriting literary darlings until they hit a plot hole that turned their lives upside down.

Three years ago, Katrina Freeling and Nathan Van Huysen were the brightest literary stars on the horizon, their cowritten book topping bestseller lists. But on the heels of their greatest success, they ended their partnership on bad terms, for reasons neither would divulge to the public. They haven't spoken since, and never planned to, except they have one final book due on contract.

Facing crossroads in their personal and professional lives, they're forced to reunite. The last thing they ever thought they'd do again is hole up in the tiny Florida town where they wrote their previous book, trying to finish a new manuscript quickly and painlessly. Working through the reasons they've hated each other for the past three years isn't easy, especially not while writing a romantic novel.

While passion and prose push them closer together in the Florida heat, Katrina and Nathan will learn that relationships, like writing, sometimes take a few rough drafts before they get it right.