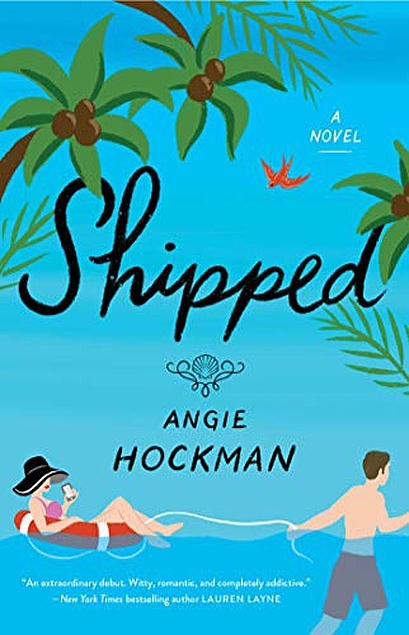 Summer is for fun and frothy books. And what's more fun and frothy than an enemies to lovers rom com novel? Angie Hockman's Shipped is the perfect book to tuck into your beach bag to enjoy when your toes are pushed into the sand.

Henley Evans is working full time for a cruise line and going to school for her MBA. She is incredibly hard working and between all of her actual work and her school work, she has no social life at all. Her biggest thrill is in the email zingers she sends off to the company's remote social media manager, Graeme Crawford-Collins. Graeme frustrates Henley no end but she's also a little intrigued by this man she's only met over the phone, a man who seems to skate by through ingratiating himself with their boss and taking credit for one of Henley's brilliant ideas. So it's particularly galling to Henley when the company creates a new position and she and Graeme are both up for the promotion, a promotion that is, by all rights, hers. They'll have to take a Galapagos cruise, together, and create a proposal to entice more travelers to this particular vacation package. The one with the best proposal earns the promotion. Complicating matters is Henley's sister Walsh, who Henley takes with her on the cruise to help her get an outsider's perspective on the trip, and who is having personal problems of her own. Can Henley fight her growing attraction to Graeme, help her sister, and create a homerun of a proposal all at the same time?

The entire novel is told from Henley's point of view, allowing the reader to see the reasoning behind her misunderstanding of Graeme and her confusion as she adjusts her picture of him. There is no similar insight into Graeme so the reader learns about him and his motivations at the same pace as Henley. Interestingly, she is the character who blows hot and cold while he is more consistent, if she just wanted to open her eyes to that fact. The plot is sweet and the light touch of the importance of conservation and the issue of misogyny in the work place help give the novel a bit more depth. The reader roots for both Henley and Graeme so the ending is both endearing and so beyond unrealistic that it almost works. At the very least it leaves the reader satisfied.