This meme was hosted by Breaking the Spine and is meant to highlight some great pre-publication books we all can't wait to get our grubby little mitts on. I'm choosing to continue the tradition even though she has stopped.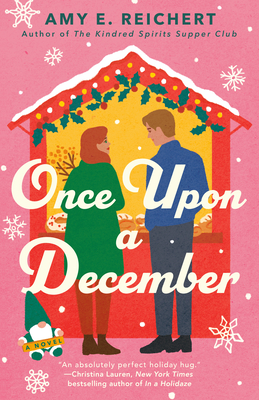 Once Upon a December by Amy E. Reichert

The book is being released by Berkley on October 4, 2022.

The book's jacket copy says: With a name like Astra Noel Snow, holiday spirit isn't just a seasonal specialty—it's a way of life. But after a stinging divorce, Astra's yearly trip to the Milwaukee Christmas market takes on a whole new meaning. She's ready to eat, drink, and be merry, especially with the handsome stranger who saves the best kringle for her at his family bakery.

For Jack Clausen, the Julemarked with its snowy lights and charming shops stays the same, while the world outside the joyful street changes, magically leaping from one December to the next every four weeks. He's never minded living this charmed existence until Astra shows him the life he's been missing outside of the festive red brick alley.

After a swoon-worthy series of dates, some Yuletide magic, and the unexpected glow of new love, Astra and Jack must decide whether this relationship can weather all seasons, or if what they're feeling is as ephemeral as marshmallows in a mug of hot cocoa.