This meme was hosted by Breaking the Spine and is meant to highlight some great pre-publication books we all can't wait to get our grubby little mitts on. I'm choosing to continue the tradition even though she has stopped.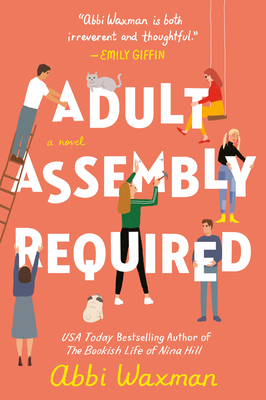 Adult Assembly Required by Abbi Waxman

The book is being released by Berkley on May 17, 2022.

The book's jacket copy says: A young woman arrives in Los Angeles determined to start over and discovers she doesn't need to leave everything behind after all, from Abbi Waxman, USA Today bestselling author of The Bookish Life of Nina Hill

When Laura Costello moves to Los Angeles, trying to escape an overprotective family and the haunting memories of a terrible accident, she doesn't expect to be homeless after a week. (She's pretty sure she didn't start that fire — right?) She also doesn't expect to find herself adopted by a rogue bookseller, installed in a lovely but completely illegal boardinghouse, or challenged to save a losing trivia team from ignominy…but that's what happens. Add a regretful landlady, a gorgeous housemate and an ex-boyfriend determined to put himself back in the running and you'll see why Laura isn't really sure she's cut out for this adulting thing. Luckily for her, her new friends Nina, Polly and Impossibly Handsome Bob aren't sure either, but maybe if they put their heads (and hearts) together they'll be able to make it work.