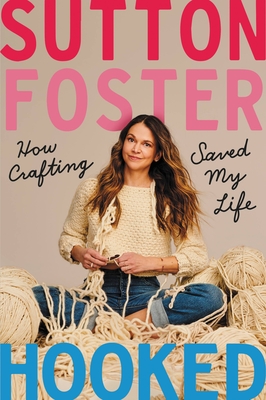 Anyone who knows me will not be surprised to hear that I have zero idea who Sutton Foster is. I live in my own pop culture void and I'm happy here. I do enjoy crafting and have picked up a number through the years although none of them have stuck as constants in my life. I can needlepoint, cross stitch, weave baskets, quilt, and more. A friend who knows at least one of these things about me handed me this book and suggested that even though I have no idea who the Broadway star/actress/author is, she still thought I'd enjoy the read. She was right. I suspect that having a working knowledge of Sutton Foster would have added to the read but it's not strictly necessary, as proved by me.

This memoir is emotionally open and honest, both about Foster's professional life and her personal life. Not necessarily chronologically ordered, she discusses her childhood with a mentally ill mother whose anger and agoraphobia escalated as years passed, her first jobs and how unhappy she was backstage, her later roles, including those for which she won Tony Awards, her failed first marriage, the heartbreak of infertility and her joy at the adoption of her daughter, the loyal friends who helped her keep on, and, of course, the crafting she has done throughout all of this that helps quiet her mind and busy her hands when she so desperately needs that peace.

Foster's childhood was fairly normal, up to a point. Her mother encouraged Foster and her brother Hunter in their musical theater pursuits (and both have been amazingly successful). But at home, the atmosphere was strained and sad and as Foster discovers later in life, not normal, warm, and loving. She started in show business quite young and despite her successes, she lacked confidence in herself. She doesn't gloss over the difficulties of being young and talented, facing nastiness and disdain from older co-workers and pushed to the verge of quitting. Taking up cross-stitch as a way to avoid these toxic interactions, she discovers that crafts (cross stitch, painting, collages, and crochet among others) centered her, revealed her to herself, and gave her a way to create even as she endured on her way to a happy, productive life. Also included in this wide ranging memoir are gardening tips, recipes, a crochet pattern, and an interview with her hero Patti LuPone. It's an interesting glimpse into a mental health self-care strategy seen through the lens of Foster's life, a life that a reader who had only seen Foster on stage or tv might have assumed was easy and charmed. Instead, it's a real life, one with some fantastic highs but also filled with its share of low lows. Now that I know some of the person behind the performer, I might have to search out the performer persona too.