This meme was hosted by Breaking the Spine and is meant to highlight some great pre-publication books we all can't wait to get our grubby little mitts on. I'm choosing to continue the tradition even though she has stopped.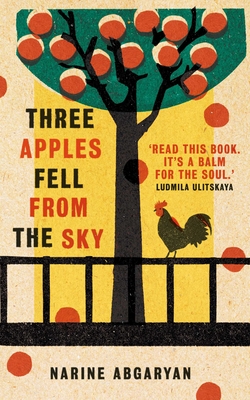 Three Apples Fell from the Sky by Narine Abgaryan.

The book is being released by Oneworld Publications on August 4, 2020.

The book's jacket copy says: An unforgettable story of friendship and feuds in a remote Armenian mountain village

In an isolated village high in the Armenian mountains, a close-knit community bickers, gossips and laughs. Their only connection to the outside world is an ancient telegraph wire and a perilous mountain road that even goats struggle to navigate.

As they go about their daily lives – harvesting crops, making baklava, tidying houses – the villagers sustain one another through good times and bad. But sometimes all it takes is a spark of romance to turn life on its head, and a plot to bring two of Maran's most stubbornly single residents together soon gives the village something new to gossip about...

Three Apples Fell from the Sky is an enchanting fable that brilliantly captures the idiosyncrasy of a small community. Sparkling with sumptuous imagery and warm humour, this is a vibrant tale of resilience, bravery and the miracle of everyday friendship.