This meme is hosted by Breaking the Spine and is meant to highlight some great pre-publication books we all can't wait to get our grubby little mitts on.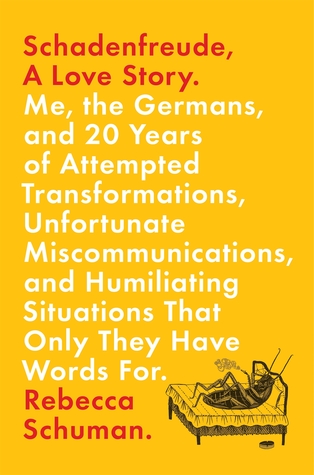 Schadenfreude by Rebecca Schuman. The book is being released by Flatiron Books on February 7, 2017.

Amazon says this about the book: You know that feeling you get watching the elevator doors slam shut just before your toxic coworker can step in? Or seeing a parking ticket on a Hummer? There's a word for this mix of malice and joy, and the Germans (of course) invented it. It's Schadenfreude, deriving pleasure from others' misfortune. Misfortune happens to be a specialty of Slate columnist Rebecca Schuman―and this is great news for the Germans. For Rebecca adores the Vaterland with the kind of single-minded passion its Volk usually reserve for beer, soccer, and being right all the time.

Let's just say the affection isn't mutual.

Schadenfreude is the story of a teenage Jewish intellectual who falls in love – in love with a boy (who breaks her heart), a language (that's nearly impossible to master), a culture (that's nihilistic, but punctual), and a landscape (that's breathtaking when there's not a wall in the way). Rebecca is an everyday, misunderstood 90's teenager with a passion for Pearl Jam and Ethan Hawke circa Reality Bites, until two men walk into her high school Civics class: Dylan Gellner, with deep brown eyes and an even deeper soul, and Franz Kafka, hitching a ride in Dylan's backpack. These two men are the axe to the frozen sea that is Rebecca's spirit, and what flows forth is a passion for all things German. First love might be fleeting, but Kafka is forever, and in pursuit of this elusive passion Rebecca will spend two decades stuttering and stumbling through German sentences, trying to win over a people who can't be bothered.

At once a snapshot of a young woman finding herself, and a country slowly starting to stitch itself back together after nearly a century of war (both hot and cold), Schadenfreude, A Love Story is an exhilarating, hilarious, and yes, maybe even heartfelt memoir proving that sometimes the truest loves play hard to get.